Certificates
I am both humbled and honored to have received this commission of the highest degree,
from the State that I love dearly. I see that I am in a pretty good crowd of people,
that have received this honor and I hope to do them well, as well as the state of
Kentucky
.
Now this is how to start the year out right!
Thanks to All that have help me along the way, it's been quite the journey,
Frosty Rankin
---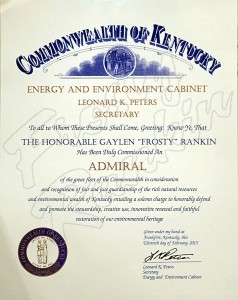 I have been honored to be commissioned as a Kentucky Admiral in recognition of fair and just guardianship of the rich natural resources and environmental wealth of Kentucky.
---
I was recently honored by the Kentucky State Senate for my painting Raven's Eve for its Snow White and the Huntsman promotion.
---
I have completed the Kentucky Arts Council Community Scholars program and am now in possession of this fine certificate: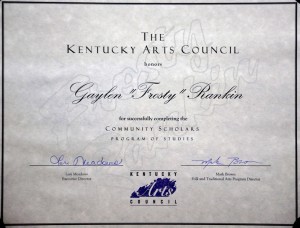 To learn more about the Community Scholars program, view this image or go to the website for more information:
To view a list of Kentucky Community Scholar, view the attached PDF.